Overview
Lexington Slate Terracotta Cladding
Lexington Slate is an interlocking tile with a natural quarried slate texture featuring all the beauty of natural slate with the enhanced durability and longevity of terracotta. Available in a 7-1/2" vertical exposure.
DESIGN TRAITS
Sidelock Weather Channel: Allows the tiles to nest together and acts as a drainage channel for surface moisture
on the tiles. The sidelock weather channel also allows for attachment of a stainless steel, concealed wind clip for
added wind resistance and performance
Two (2) pre-punched fastener holes for attachment anchors
Engineered stiffening ribs on the back of the tile allow an increased tile strength while removing unnecessary
weight
Standard Physical Characteristics
| | | | |
| --- | --- | --- | --- |
| Product Title | Nominal Exposure (IN) | Panel Size (IN) | Terracotta Panel Weight (LBS/SQ FT) |
| Lexington Slate | 14" x 7-1/2" x 1" | 14-3/4" x 10-1/2" x 1" | 8.23 lbs/sq ft |
Installation
NeXclad can be installed directly to the wall sheathing or as the finish material in a rainscreen application. Below are photos of typical NeXclad installations.
NeXclad Installation Photos
Colors & Finishes
THE ART & SCIENCE OF NEXCLAD COLOR
Terracotta by its very nature is warm, earthy, and inviting. Enhancing the natural qualities of terracotta by applying a glaze mixture prior to firing can create spectacular colors unable to be replicated on other building materials. Creating the color of a terracotta tile is part science and part art. A natural range of tones is a feature within any given color. The range of tones that arise from the manufacturing process is a normal and very desirable feature of natural clay tile—imparting richness, character, and a dimensional appearance to the installed product The high-temperature firing process used at our manufacturing facility produces vibrant colors that do not fade, spall, effloresce, or significantly change over time. Our color glazes are kiln-fired at extreme temperatures during production, fusing the color into the tile, and ensuring that the original tones and hues are retained for generations. This is why include color in our industry-leading 75-year material warranty.
We pride ourselves in our long history of color mastery and being recognized as an industry expert in glazed terracotta tile. With over 50 designer color blends and the ability to custom-match nearly any hue, the color possibilities are endless.
STANDARD THROUGH-BODY COLOR
Clay Red
NeXclad glazes come in single and multiple spray options, creating a narrow or wide color range across the visual field. Custom color blends can also be created by request.
STANDARD GLAZE COLORS
Sunset Red (Weathered)
Slate Red
Burgundy
Summer Rose
Santiago Rose
Historic Red
Desert Sand
Barcelona Buff
Empire Green
Bright Green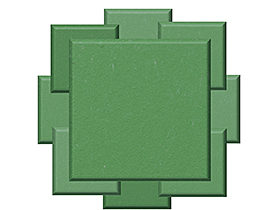 Vintage Green
Brookville Green (Gloss)
Dark Green
Mediterranean Blue (Gloss)
Royal Persian (Gloss)
Heritage Blue
Plumstone
Briar Brown
Aged Oak
Beach Brown (Weathered)
Ebony
Brunswick Black
Midnight Black (Gloss)
Lava Black (Weathered)
Slate Gray
Montpelier Green
Ash Gray
Matte White
Adobe Fleck
Process Flash
Sunset Red with Ebony Mist (Weathered)
Ebony Mist
Sienna
White Cedar
Golden Red Cedar
Aged Cedar
Forest Green
Aged Copper
Earth Gray
Antiqued Montpelier Green
Western Cedar
Vermont Gray Black
Antiqued Brunswick Black
Antiqued Slate Gray
Mottled Green Purple
CUSTOM TEXTURES
Our skilled craftsmen can recreate a number of textures that authentically replicate the surface of age-old terracotta tiles. Custom textures can be applied to match historic applications or to meet your specific design aesthetic. Surface textures can create unique effects with colors by varying light reflectances from the tile and reduce glare. Many tile textures are applied by hand which allows each clay tile to have a unique, handmade look. Textures can be combined to create a unique appearance or we can work with you to create a new custom surface texture.
3-Directional Scoring
Battered Butts
Brushed and Battered Butts
Fine Machine Scoring
Medium Machine Scoring
Hand Roughed
Hand Slushed
Weathered
Certification
NeXclad has been tested and received certifications for the following:
ASTM C1167 Breaking Load Test – Glazed
ASTM C1167 Efflorescence Test – Glazed
ASTM C1167 Freeze-Thaw Test – Glazed
ASTM C1167 Permeability Test – Glazed
ASTM C1167 Thermal Shock Resistance Test – Glazed
Wind Load Test over Armoroc
Wind Load Test over Plywood